The Advanced Eyecare Centre is excited to offer a new and improved retinal camera!  We were one of the first in Calgary to offer this service to our patients when we opened in 2006.  Our new camera obtains higher resolution images using a more comfortable lower intensity flash!
Digital retinal photography complements wide-field imaging like our Optomap.  It provides high resolution images of the sensitive areas of your retina that provide you with your central vision.  This allows your doctor to pick up subtle signs of early eye disease that might otherwise be missed.  This is particularly useful in detecting early signs of diabetic eye disease, glaucoma, and macular degeneration.
This is an example of what a detailed retinal photograph looks like.  The yellow circle is the optic nerve, which connects the eye to the brain.  The darker area in the centre is the macula, which is responsible for your central vision.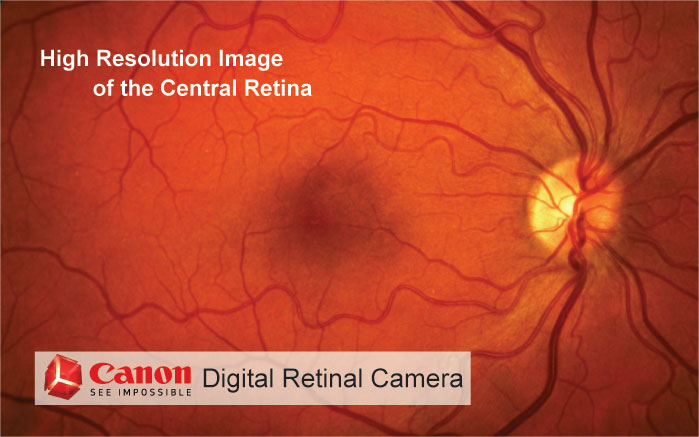 Who is a good candidate for retinal photos?
If you have any of the following conditions, you are a good candidate for more detailed retinal photographs:
Macular Degeneration
Glaucoma
Diabetes
Blocked Retinal Artery of Vein
Congenital Abnormality of the Retina
Nevus or Freckle of the Retina
Ask about Digital Retinal Photography at your next eye exam and see your eyes in detail like your doctor does!