Providing you the best optometrist experience in Calgary isn't just a goal for the team at the Advanced Eyecare Centre, it is our passion!  All of our friendly staff play a vital role in ensuring your visit is as prompt, comfortable and enjoyable as possible.  Our team members are highly trained, staying on top of new products and technologies through in-office courses as well as participation in continuing education seminars.  We are always striving to exceed your expectations and we look forward to getting to know you better!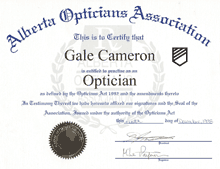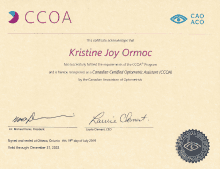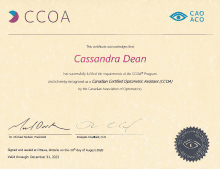 Denotes a staff member who has been Certified by Nikon Optical Canada as having advanced product knowledge and lens fitting skills.
Dr. Timothy Hay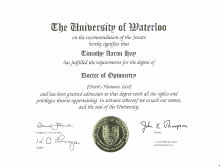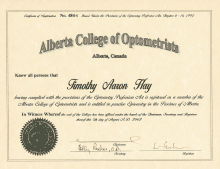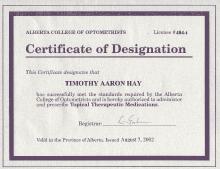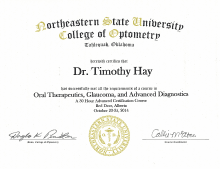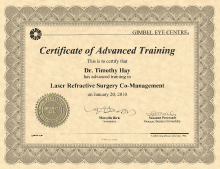 Dr. Timothy Hay is a licensed therapeutic optometrist who graduated with Honours from the University of Waterloo Optometry program in 2002.  In 2006 he founded the Advanced Eyecare Centre on the belief that the residents of Calgary deserved the superior service and personal approach to eye care that he had grown up with in small town Alberta.
Dr. Hay has considerable experience in providing comprehensive eye exams and expert contact lens fittings to adults and children.  He cultivates lasting relationships with his patients with his meticulous and caring approach to eye care.  He is dedicated to staying on the forefront of knowledge through a lifelong commitment to continuing education.  His thorough and preventative approach to optometry focuses on optimising your vision today and ensuring that it lasts a lifetime.
On a personal note, Dr. Hay is a father of two who enjoys spending time with his family mountain biking and skiing.  He also enjoys travel, which includes volunteering for medical mission trips to provide eye care to those in need.
Dr. Pascal Gagné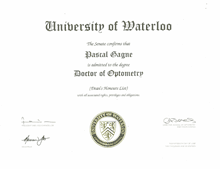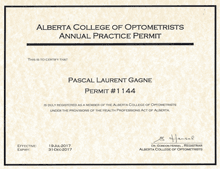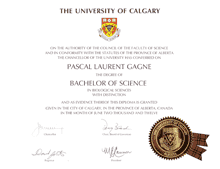 Dr. Pascal Gagné was born in Saint-Jean-sur-Richelieu, Quebec and moved to Calgary as a young child.  He received his Bachelor of Science Degree with Distinction from the University of Calgary.  He then went on to study Optometry at the University of Waterloo, where he graduated with Honours. He is bilingual, offering eye examinations in both English and French.  His patients comment that his warm and personable approach towards eye care puts them at ease.  He is also very patient, taking time to answer any questions you might have about your eye health and vision. Dr. Gagné has made a great addition to our enthusiastic eye care team!
Humanitarian Work